WWDC NOTES 2.0!
Meta
June 2, 2021
Federico Zanetello
@zntfdr
Just in time for WWDC21, WWDC Notes 2 is out!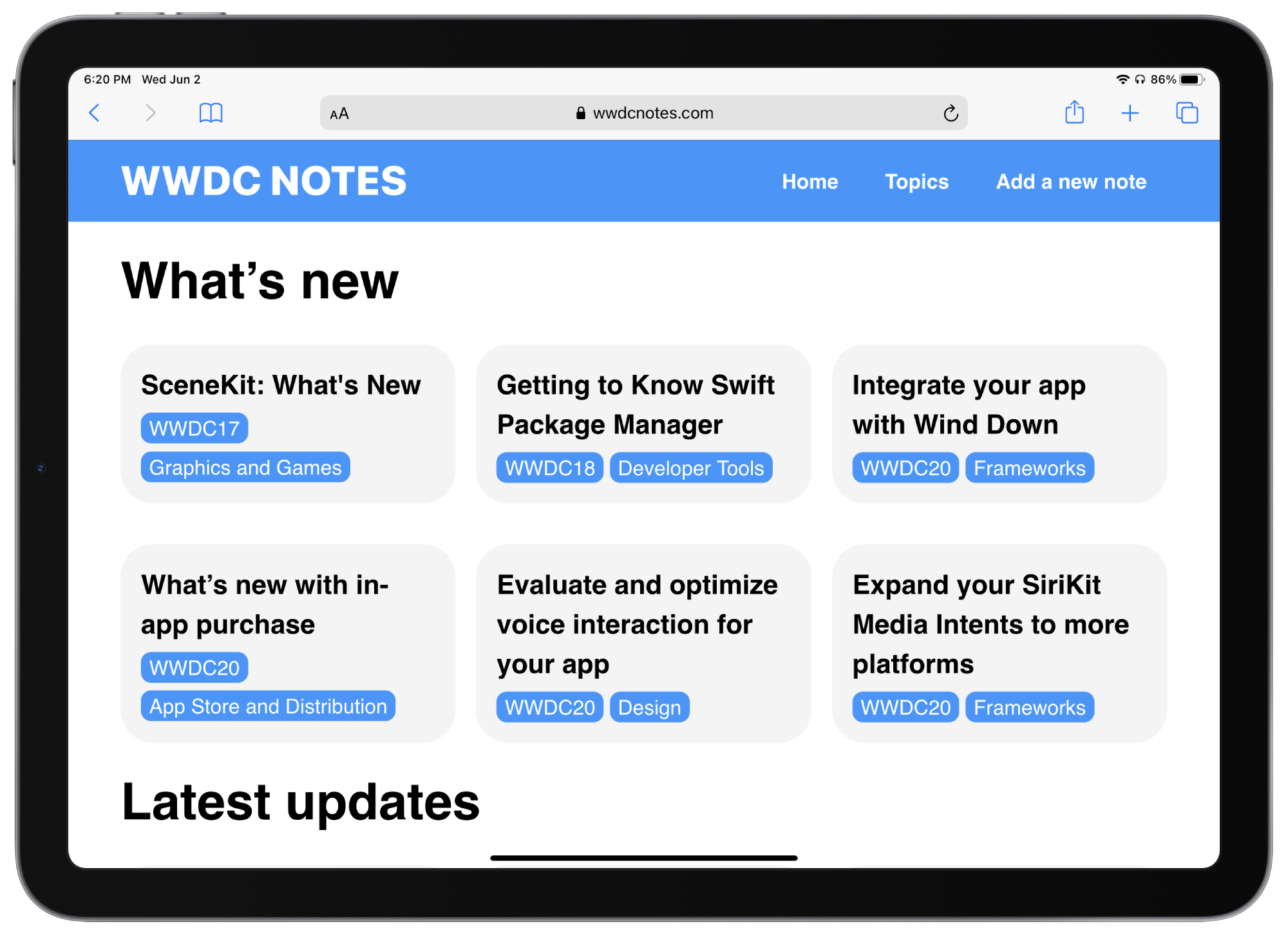 Here's what's new:
Design

From home all the way to individual community members, every page has a fresh new look.
A few highlights:
more compact headers, new menu for quick links
improved overall readability
smart list layouts: pages listing notes pick the best layout based on the number of notes
note pages: session topics are highlighted along with the note event and track. Apple's session descriptions and contributors are improved as well.
Filters

It has always been possible to filter notes by year or track (Design, Developer Tools, ...): there's now a finer way to do so by topics. A few examples: machine learning, networking, App Store Connect, health and many more.
Each note shows its topic(s) under their page title as well.
Similarly to topics, WWDC Notes now features over one-thousand tags: if topics are still too broad, tags will definitively help. A few examples: SwiftUI, performance, widgets, and many more.
Browse all topics.
Browse all tags.
Assets

I reviewed all current 300+ notes and replaced over 130 images with actual text and code: not only WWDC Notes now loads faster, but it's also much more accessible for everyone.
Speaking of images, WWDC Notes's repository now comes with ImgBot, which automatically optimizes the size of every image added to the repository. This lets the community focus on the notes, while Imgbot takes care of assets optimization.
And much more!
These are just a few of the many new updates on the website, please feel free to check out the new website and I look forward to welcome your notes!
Thank you for reading and I wish you a great WWDC 2021!
ICYMI
Here is a small recap of some iterations that went live before this big 2.0 release: